Our Company Logo
Choose the company logo when referring to the brand as a whole, not specific products like Satchel One. The logo is lowercase with a colon, but the written brand name is Satchel. Download the dark and light versions of our company logo here.
Satchel logo - dark background
Satchel logo - light background
Our Product Logo
Choose the product logo when referring specifically to Satchel One. Make sure that you aren't still using our outdated Show My Homework logo! Download all versions of the Satchel One logo here to use on your school website.
Satchel One logo - dark background
Satchel One logo - light background
Satchel One logo - mobile version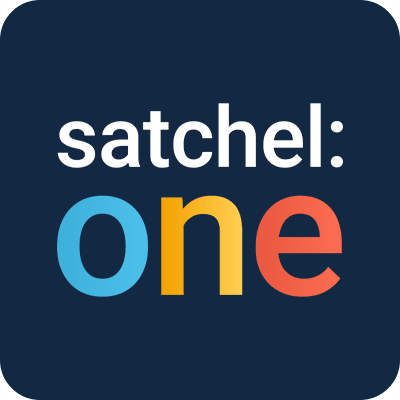 Satchel One MIS
Our upcoming MIS is part of Satchel One but has its own logo, which you can download here.
Choose the most recent version from this page
Always keep the original colour and typography
Maintain the logo's proportions when resizing
Only use the logo in places that align with the brand values
Legals: Satchel Trademark Guideline
The Satchel Trademark Guidelines (the "Guidelines") have been created to provide guidance to our partners, licensees, and other authorised third parties (collectively, "You") on the correct usage of Satchel's brand assets, including Satchel logos, trademarks, service marks, and any other word, name, phrase, image, or designation that identifies the source or origin of any Satchel products or services ("Satchel Brand Assets"). These Guidelines and the Satchel Style Guide above must be followed when using the Satchel Brand Assets. Any use of the Satchel Brand Assets that goes against these Guidelines or the Style Guide is prohibited. Satchel reserves the right to modify or update these Guidelines and the Style Guide at any time at its sole discretion.
The Satchel Brand Assets are valuable intellectual property owned by Satchel. By using or referring to any Satchel Brand Asset, you agree to comply with these Guidelines and the Satchel User Terms of Service. You acknowledge that Satchel is the sole owner of the Satchel Brand Assets and agree not to challenge or interfere with Satchel's rights in its Brand Assets. Furthermore, you agree that any goodwill derived from the use of the Satchel Brand Assets belongs exclusively to Satchel. We reserve the right to review the use of our Brand Assets at any time and retain the authority to terminate or modify any permissions granted by Satchel.