Our MIS features
Our MIS is a one-stop cloud solution, with all the statutory MIS features you need alongside our suite of award-winning learning platform apps.
Apps
Everything you need for classroom management - Behaviour, Detentions, Homework, Seating and Timetables.
Students
Efficiently manage your student profiles, including any applicants and their parent or carer records.
Staff
Access everything for staff HR, personnel, contracts and directory, all in one convenient location.
School
From subjects and departments, to teaching groups and academic structure, organise your school details effectively.
System
Setup roles and permissions, or personalise with public pages and custom themes quickly, easily and securely.
Our One Licence Offer
Help us exceed your expectations. Our launch offer gives early access schools the opportunity to give direct feedback to our team while implementing our MIS for a discounted price.
Sign up from January 2024 for a spring launch
Up to 18 months free when you're mid-licence with another MIS
25% off your first licence
Money-back guarantee during your onboarding period
Everything you need to run and manage your school from one login
The ease of use you know and love from Satchel One
Want to help shape the MIS? We're working with a small number of pilot schools to provide feedback directly to the Satchel team during our MIS development in return for a special additional discount and early launch in Autumn 2023.
To stay in the know about our launch offer, developments, pricing or becoming a pilot school, click the link below.
Learn more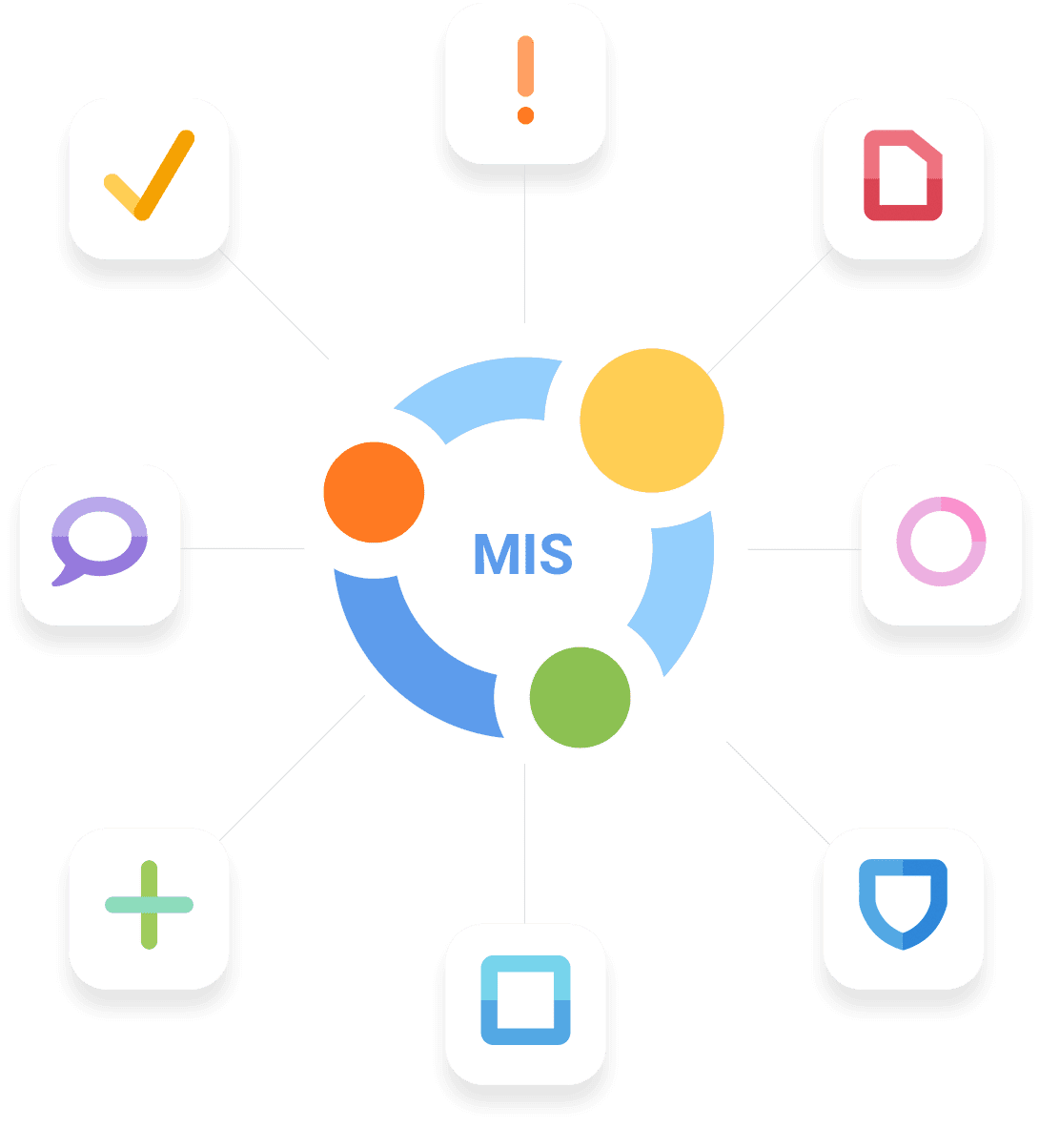 Reasons to switch to a cloud MIS
Access data from anywhere
Cloud-based systems let administrators access data from anywhere, giving them the flexibility they need to keep up with the demands of their jobs.
Superior analytics
Cloud-based MIS solutions are equipped with automatic reporting features that organise your data and make gathering insights about your school as easy as clicking a button.
Better value for money
With no more on-premise maintenance costs combined with a lower average price to begin with, cloud-based MIS solutions are highly cost effective.
10 reasons to switch
Want to learn more about switching to a cloud-based MIS? Click the button below for our top 10 reasons to switch.
Learn more
FAQs
You can sign up any time before August 2024 to take advantage of our launch offer.
We have limited spaces available on our pilot program, directly involving your school in the shaping and development process of our MIS. This means:
An extended onboarding and evaluation period of around 3 months to allow you to compare our MIS side by side with your existing system
Early access from Autumn 2023
Direct contact with the product development team
Giving regular feedback and a testimonial about your experience with the product
Further discounts on your licence fee
You will have the opportunity to cancel your licence at any point during the extended onboarding period to ensure you only launch with us if you're completely satisfied with the product.
Our launch offer gives your school up to 18 months free on your Satchel One licence if you're locked into an existing contract with another MIS provider, allowing you to switch to Satchel One immediately without incurring any financial burden.
Yes! Our MIS contains everything you need to run and manage your school, including all statutory features.
Satchel One's MIS is currently being built directly into our existing ecosystem to give you everything you need in one place. This means that not all MIS features are available for demonstration yet, but we will be able to show you these gradually as they are released.
Sign up here and be the first to know.
As always, the pricing for our Satchel One MIS will depend on your school size and feature set requirements. We are, however, confident that our pricing is competitive within the market and comparable to or cheaper than other cloud-based MIS systems, with the added classroom management functionality that Satchel One also has today. Please get in touch in the form below if you would like to learn more about our pricing.
We already integrate with Google Classroom and Microsoft to add supercharged functionality to our learning platform features, and Single Sign On to make logging in just that bit easier. Our MIS will also benefit from these integrations, as well as other integrations with third party tools via Wonde.
While we don't currently have plans to create our own timetabling tool, we are proud to be partnering and integrating with TimeTabler.
Stay in the loop about our MIS
To stay in the know about our developments, timeline, pricing, demos or about becoming one of our early access schools, please fill in the form below.