What is Timetables?
Timetables is an organisational tool for teachers, students and parents. The app helps to keep schedules aligned during blended learning or school closures, and ensures that in-class lessons continue to run smoothly.
Promote whole-school organisation
Making timetables accessible to all stakeholders helps to improve the organisation of the entire school. Timetables ensures all stakeholders have access to their timetables and any information surfaced is accurate thanks to a daily MIS sync.
Accessible via the Satchel One mobile app and browser
Parents and students have full access to their weekly schedule
Daily MIS sync for accurate, up-to-date data
Students can view homework deadlines directly from their Timetable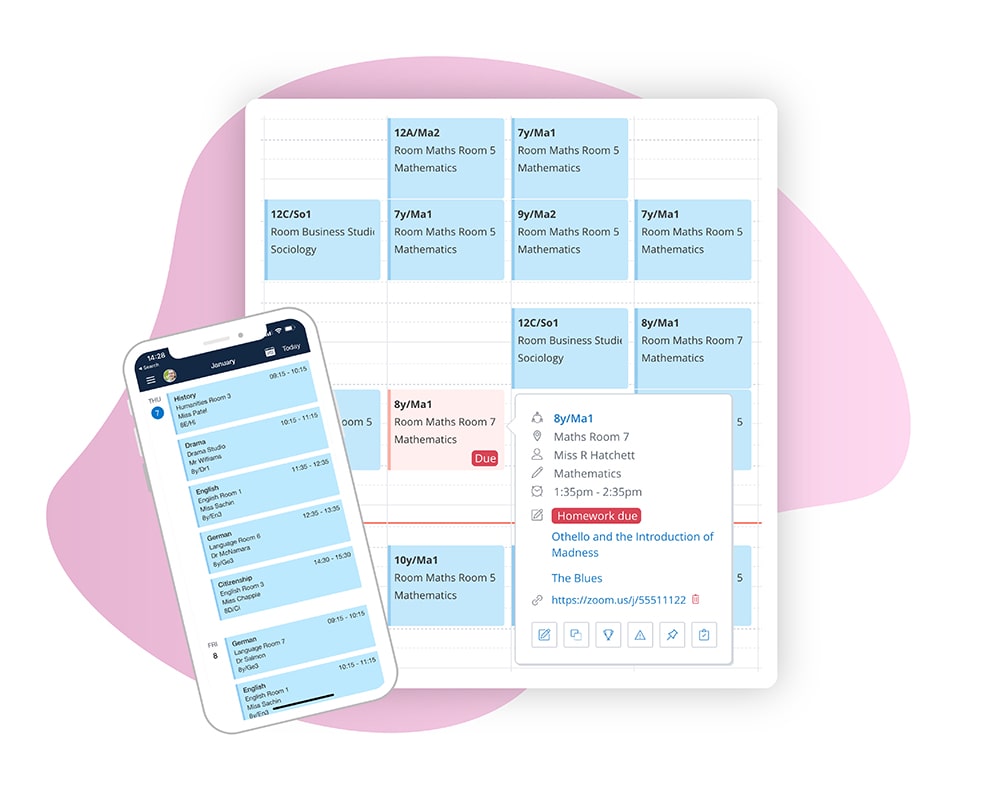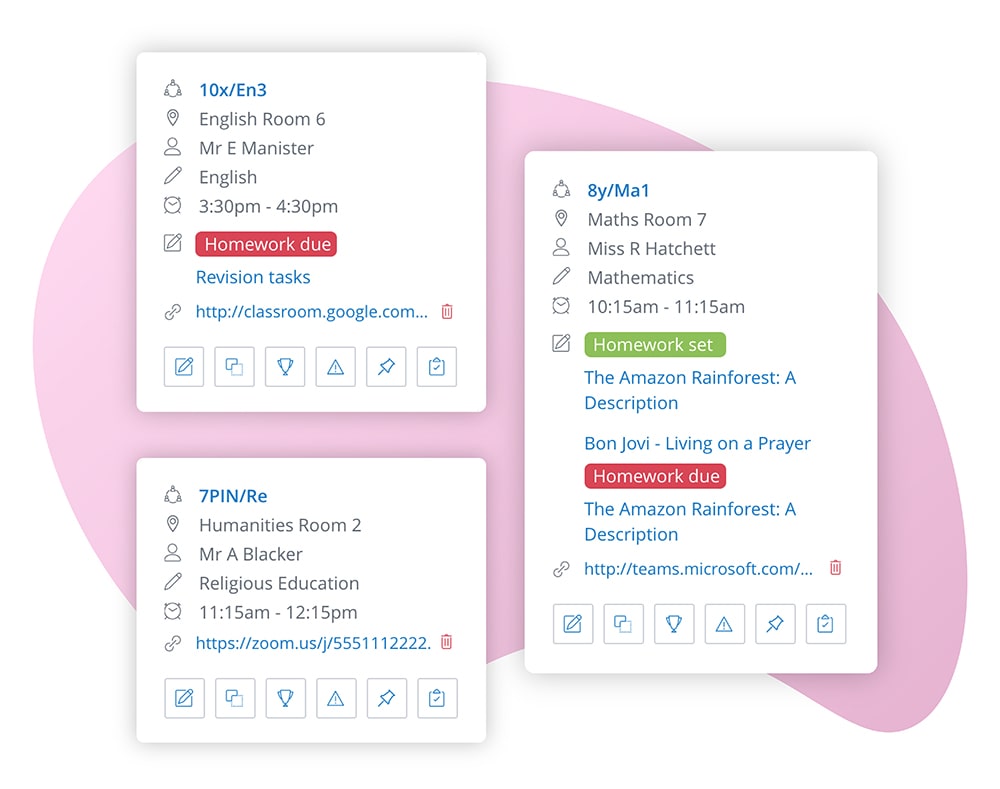 Support blended learning
Timetables helps to keep learning aligned during periods of distance learning. By hosting your school's timetables online, students can access their weekly schedule from home, adding structure to any days they spend distance learning.
Use in conjunction with Google Classroom and Microsoft Teams workspaces
Add live video links from all major video conferencing software to specific lessons so students can easily access remote learning
Students can view Timetables remotely so they can still access lesson work from home
Supports staggered start times displaying timetables exactly as they appear in your school's MIS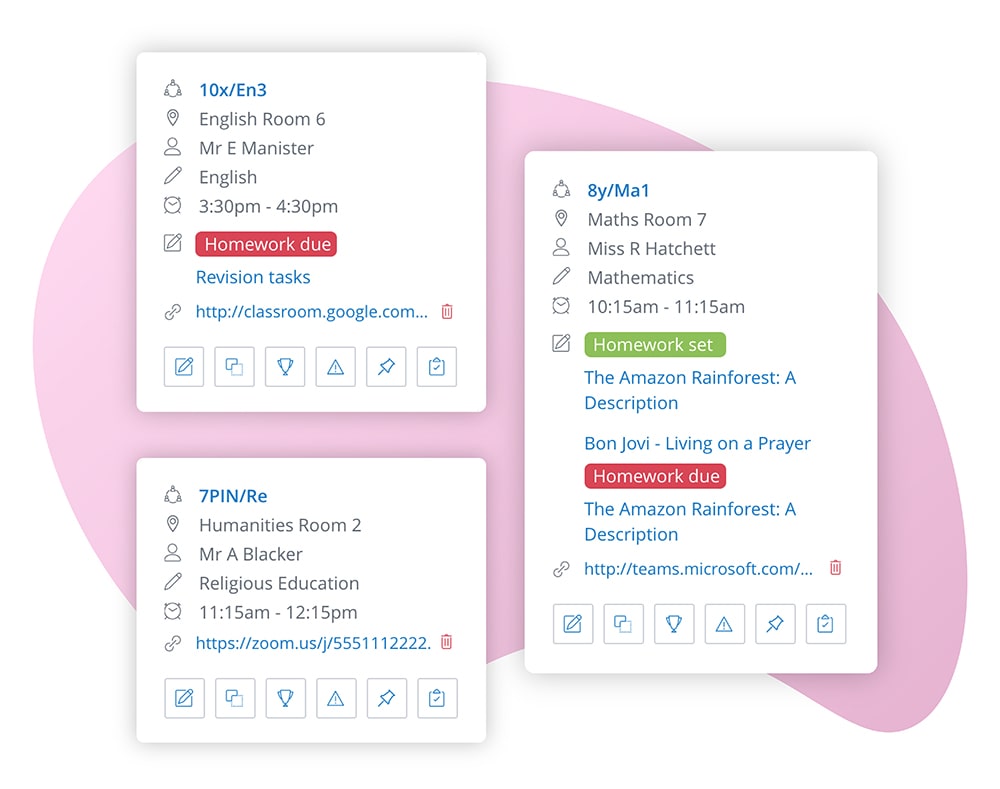 The Timetables and Seating apps have been invaluable in dealing with Covid cases.
South Lincolnshire Academies Trust
Reduce teacher workload
Timetables provides teachers with handy shortcuts to other Satchel One apps, reminders around when tasks are due in and makes live video links easily accessible to students from their own personal timetables.
Teacher Agenda displays your daily schedule from the Satchel One dashboard
Use Satchel One and your Google Classroom or Microsoft Teams workspace together seamlessly
See when homework is due for collection from your personal timetable
Quickly add video links to blended lessons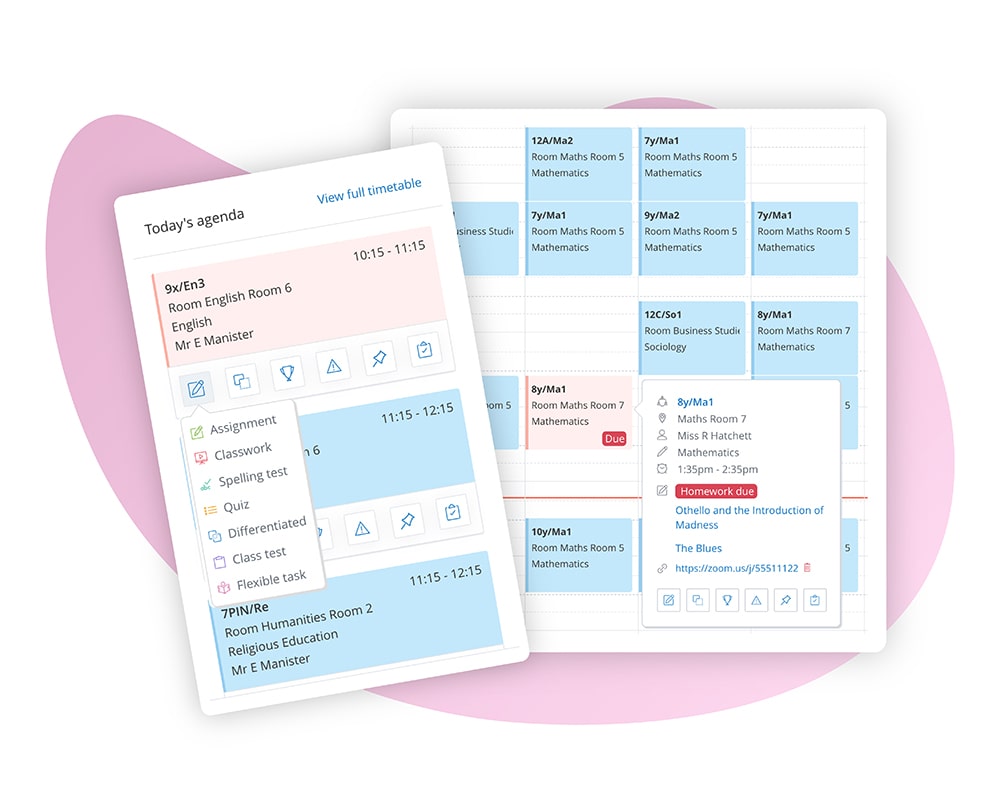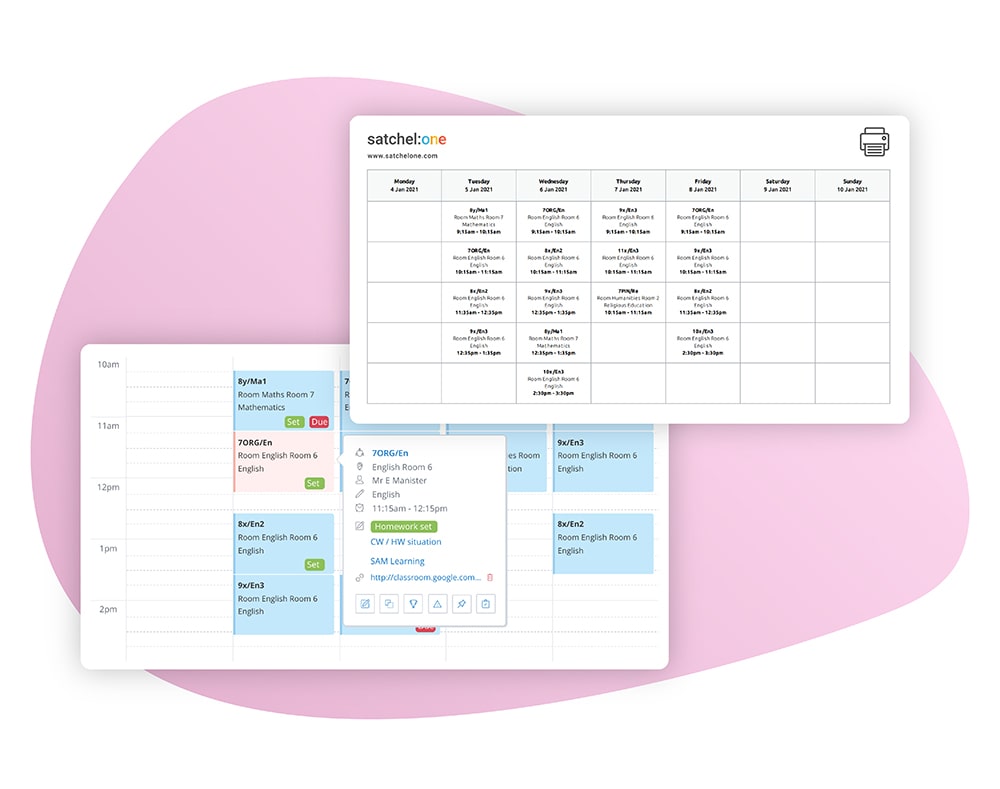 No phones? No problem
If your school operates a no-phone policy, you can still benefit from online timetables. Teachers can access their own, and relevant pupils' Timetables from their desktop, whereas students can self-serve their Timetables by printing them at home or in school.
Students can access Timetables from desktop computers and print them out
Parents always have access to their child's Timetable via the app or desktop
Helps to keep blended learning on track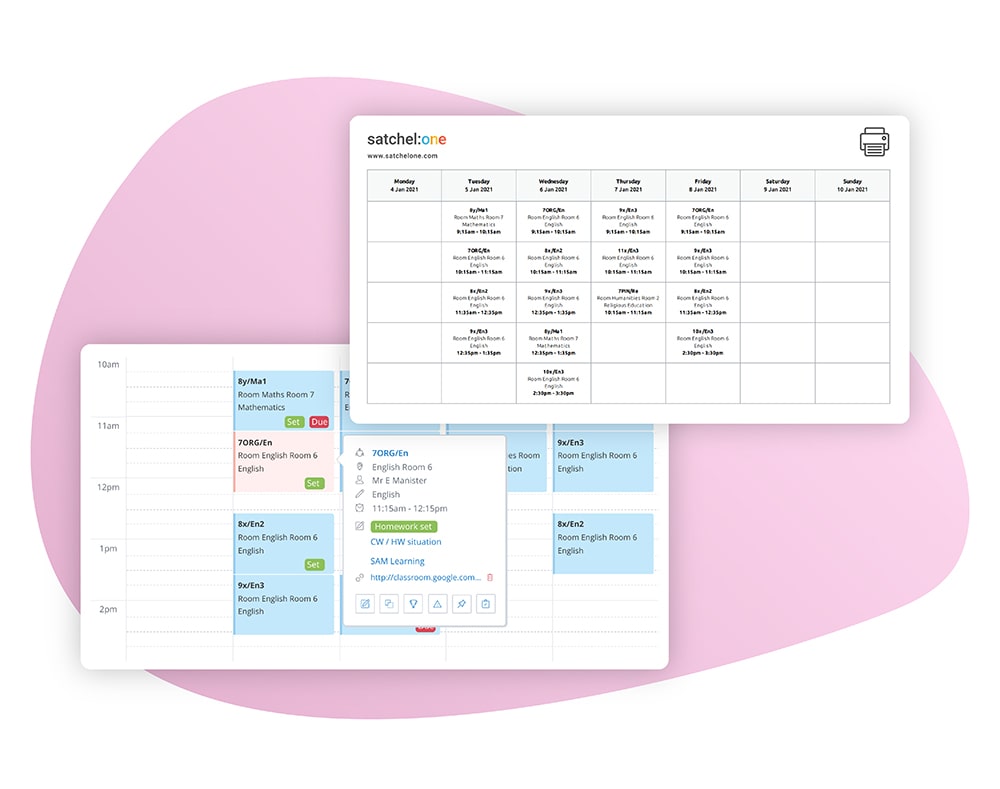 Plan lessons without leaving Satchel One
Stay organised and plan ahead by creating dynamic lesson plans in Satchel One that are ready and waiting for you in your timetable. Looking to save even more time? Try our AI tool Sidekick and get the lesson planning done for you in just a few clicks!
Are you a Google Classroom or Microsoft Teams school?
Timetables is a whole-school organisational tool that engages parents in their child's school life, supports staff organisation and helps to keep students punctual. Timetables works seamlessly alongside Microsoft Teams and Google Classroom to support blended learning and keep learning aligned for all stakeholders in schools.
Official Microsoft Partner and Google for Education Partner
Use your Office 365 or Gmail account to log in and see Timetables
Set tasks on Show My Homework, Share to Google Classroom or Microsoft Teams and see when tasks are due for collection via the Timetable
Add live video links from Google or Microsoft to lessons via the Timetable app for students to access
Share student Timetables with their parents
Timetables is fully supportive of staggered start times displaying Timetables exactly as they're stored in your MIS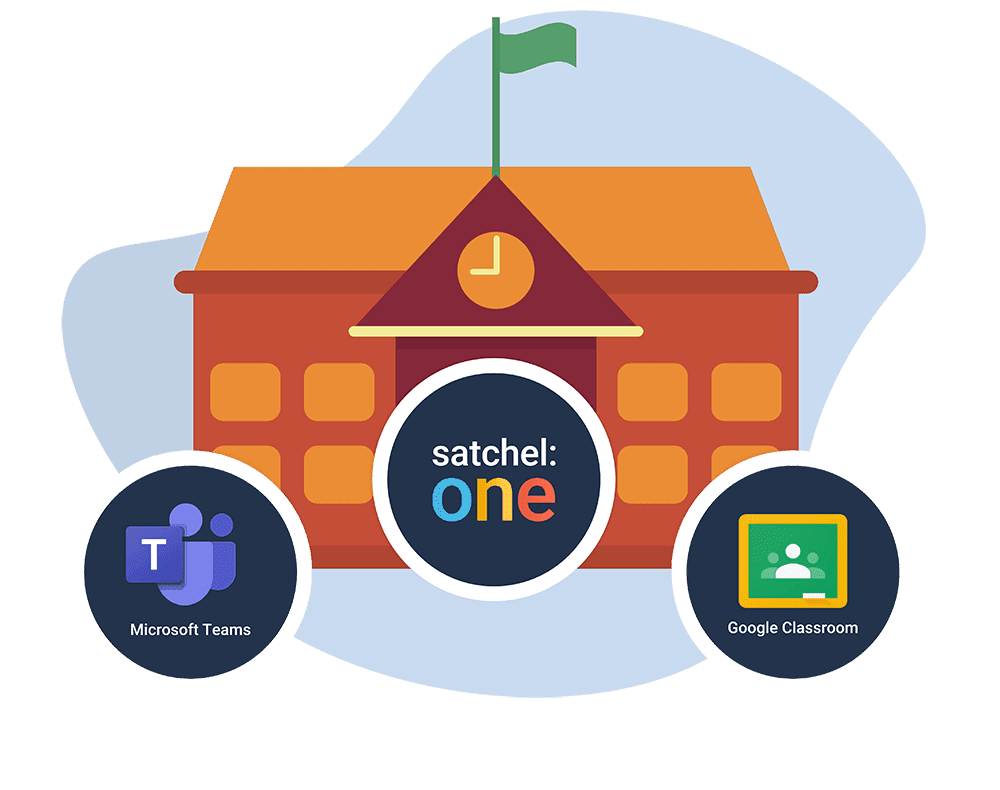 Used by 1 in 3 secondary schools
We're partners to 1 in 3 secondary schools across the UK, join the Satchel One Community today.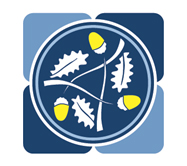 AET
Academy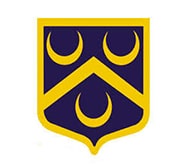 Borden Grammar School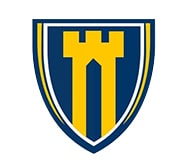 Castle Newnham
School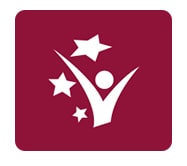 Harris Academy South Norwood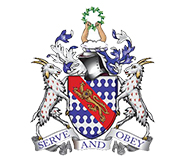 The Habs Boys' School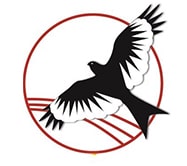 Lavington
School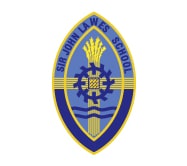 Sir John Lawes
School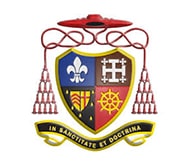 St Bonaventure's School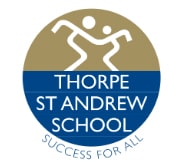 Thorpe St Andrew School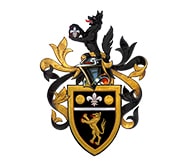 Wilson's
School
Award winning software
Satchel are an award winning company who currently work with 2500 schools worldwide.
2023 Winners
Response to Covid-19

2021 Winners
Whole School Aids for Learning, Teaching & Assessment

2020 Winners
School Business Category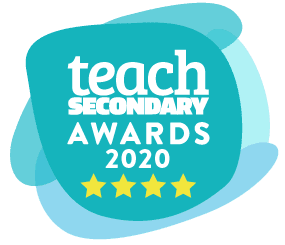 2019 Winners
Edtech Innovator of the Year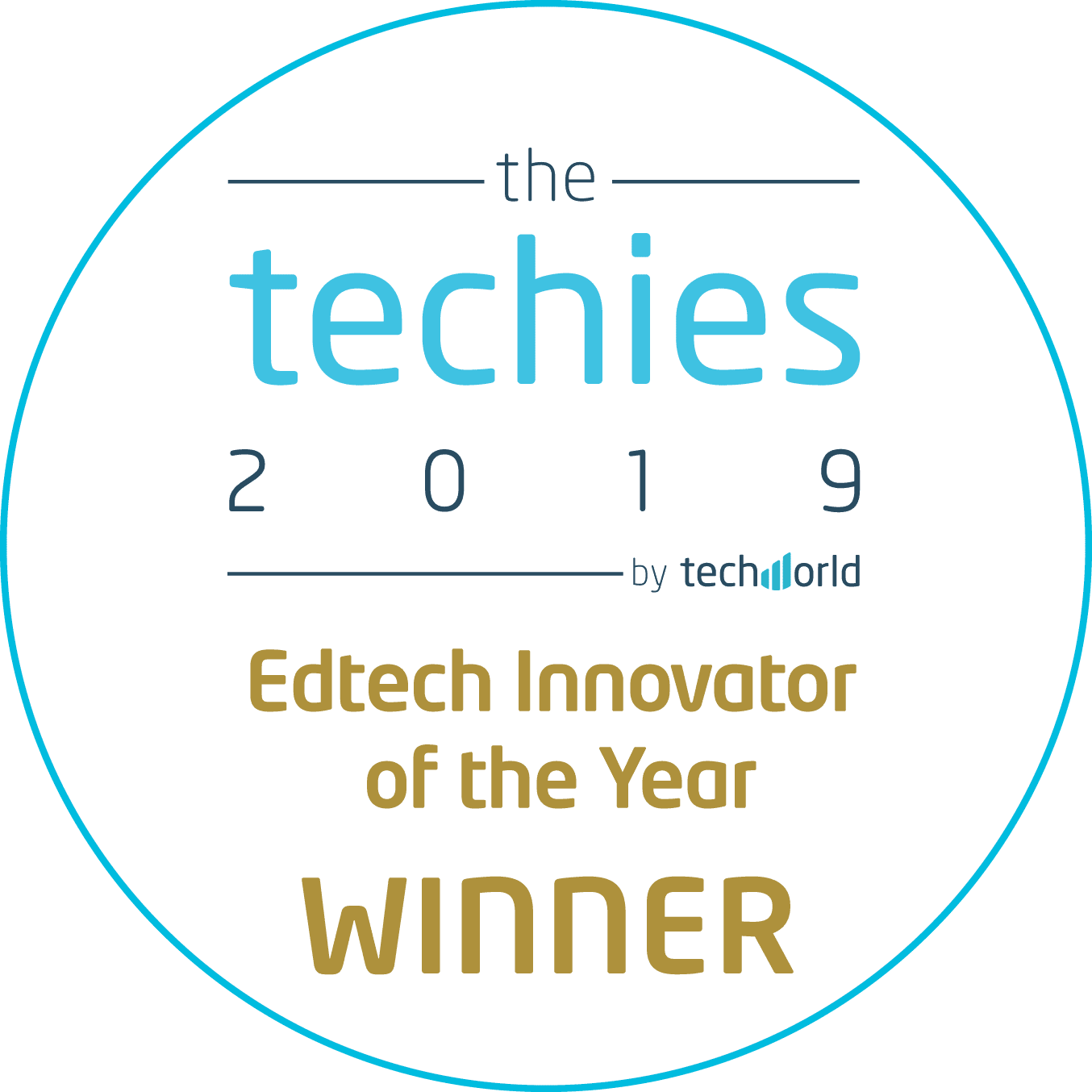 2018 Winners
Whole School Aids for Learning, Teaching & Assessment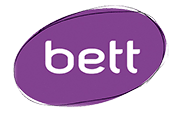 2017 Winners
Secondary Resource or Equipment - Including ICT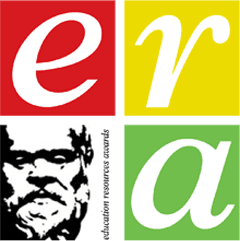 2017 Winners
Education Company of the Year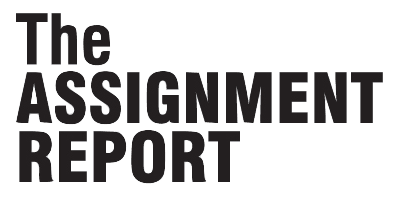 2017 Winners
Digital Innovation in the Public Sector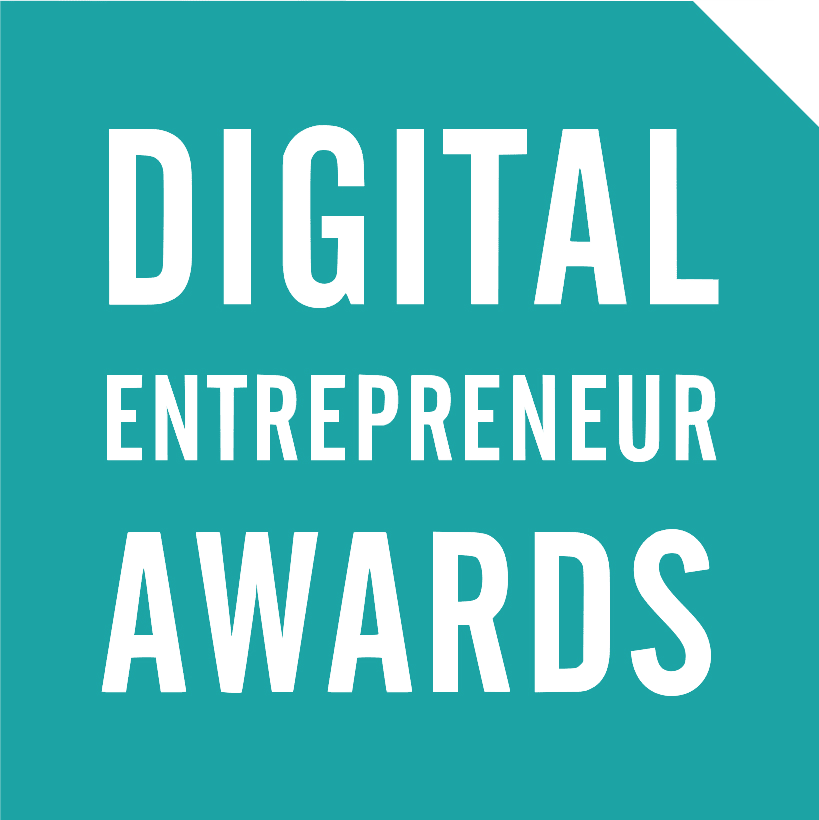 2016 Winners
Upscale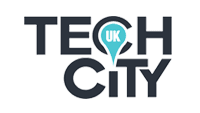 2016 Winners
EdtechXRise All Stars award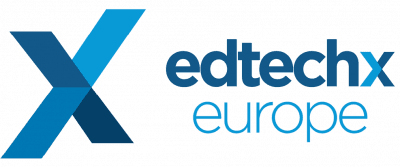 Speak to the team today!
Whether you're looking for pricing, a quick demo and login details or more detailed information about getting your school set up, the team will be on hand to help. Fill in the form or give us a call on 020 7197 9550 option 1.