Learning platform meets MIS
Next academic year, Satchel One is expanding into an MIS to give you all the learning platform and classroom management features you're used to plus full, cloud-based MIS functionality. Everything you need to run and manage your school.
What does this mean for your school?
Consolidate software and costs with a single platform
Use an MIS that already provides market leading classroom management
Benefit from up to 18 months free and 25% off your first paid year
To stay in the know about the developments of Satchel One, our timeline, pricing or becoming an early access school, click the link below.
Learn more
Satchel One for secondary
Satchel One is the online learning platform that will offer full cloud-based MIS functionality from next academic year. Made up of a range of award-winning apps and features, Satchel One aids in effective communication with parents and reducing teacher workload all the while being mindful of schools' budget constraints.
Show My Homework
Timetables
Behaviour
Seating
Content
Attendance
Detentions
Welfare Notes
Show My Homework
Timetables
Behaviour
Seating
Content
Attendance
Detentions
Welfare Notes
Why Satchel One?
Satchel One, the UK's leading learning platform for over a decade, is launching a full suite of MIS features next academic year. Our industry experience means we understand the problems facing teachers and our suite of award-winning apps tackle these challenges head on. Always affordably priced and easy to use.
Enhance the learning experience
Satchel One's tools help to enhance the existing skill set of teachers so they can support their students and unlock their potential. Choosing from a wide variety of task types, including self-marking quizzes, helps to keep students engaged whilst integrations & partnerships with third-party content providers save teachers time when setting work.
Easily identify gaps in learning
Exclusive access to Collins' online textbooks
Work can be submitted in-class or online
Time-saving integrations with Quizlet & GCSEPod
Create the optimum classroom environment
Create a learning environment where your students thrive with Satchel One. Simple seating software helps create the perfect classroom layout whilst taking into account students' individual needs. Online praise and detention tools supports teachers with behaviour management -reinforcing positive actions and reprimanding negative ones.
Seating plans based on inclusion & attainment data
Create custom badges to reward positive behaviour
Communicate detentions directly to parents when issued
Connect families & improve communication
Good communication, within school and with families, is vital to a successful school and Satchel One is the whole-school communication tool that empowers all stakeholders. Keep parents informed about their child's education, give teachers the ability to share resources or communicate concerns regarding students' wellbeing and allow students to reach out to their teachers for academic support.
Each stakeholder has access to their own Satchel One app
Communicate student wellbeing concerns to relevant teachers
Enforce the sense of school community via dashboard personalisation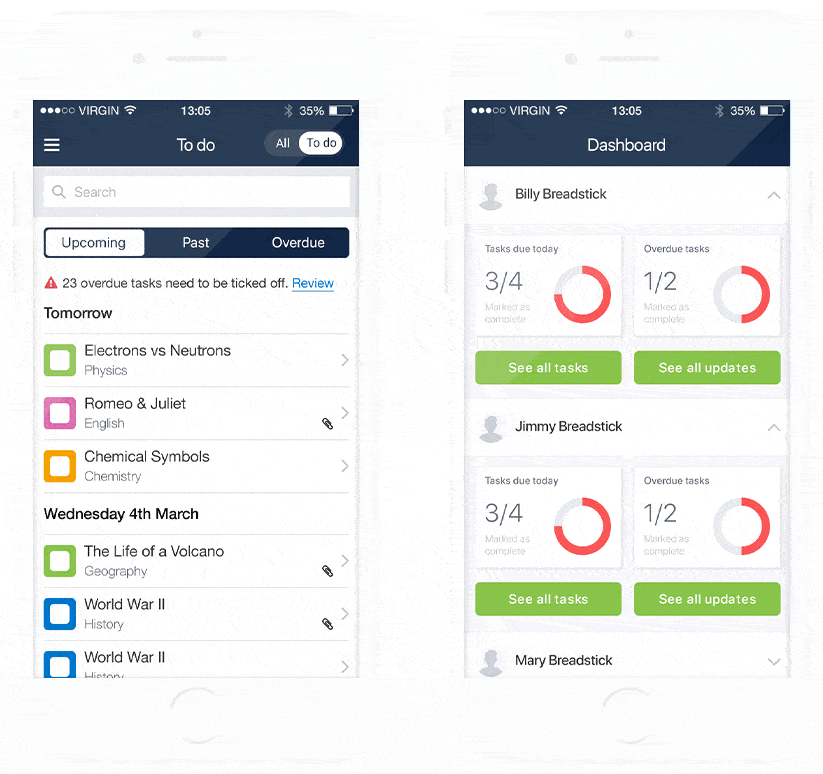 Save teachers' time
Consolidating multiple tools into one single platform can help to significantly reduce teachers' workload. For almost a decade Satchel has been creating time-saving tools that are now available under one roof with Satchel One. With all data pulled directly from your MIS, reporting done for you and content created in the platform and saved for reuse, Satchel One not only saves teachers' time but is affordable and easy to use.
Share best practice with colleagues in a click
Auto-populated reports provide unrivalled insight into student performance
MIS sync and writeback avoids any manual data input
Are you a Google Classroom or Microsoft Teams School?
Satchel One works seamlessly alongside Google and Microsoft to help schools deliver the complete learning experience. Clever integrations make combined use of these platforms even more powerful. Schools have access to all the tools they need to support student learning, engage parents in the learning process, save teacher time, monitor student behaviour and facilitate distance or blended learning.
Official Microsoft Partner and Google for Education Partner
Share Satchel One tasks to Microsoft Teams or Google Classroom
Single sign-on with your Office 365 or Gmail account
Access award-winning tools that effectively support classroom management
Keep parents up to date with events and announcements via the parent app
Reduce teacher workload with streamlined apps
Used by 1 in 3 UK secondary schools
We're partners to 1 in 3 secondary schools across the UK, join the Satchel One community today.
Barnwell
School
Borden Grammar School
Castle Newnham
School
Harris Academy South Norwood
Holy Cross Catholic School
Lavington
School
Sir John Lawes
School
St Bonaventure's School
Thorpe St Andrew School
Wilson's
School
Benefits of using Satchel One
At Satchel, we're so much more than just a software provider, we're partners to each and every school that comes on board, building outstanding products and providing exceptional service and support.
Full software training for every school that comes on board, available in person or remote
Work with our outstanding Support Team who operate at 90.5% CSAT
Dedicated teams are available to support you throughout the entire length of your licence
Provides schools with instant access to remote learning tools should they ever have to close
Integrates with your existing MIS system providing your IT Team with a quick and easy set-up
Each stakeholder has their own account accessible on desktop or via the Satchel One app
Speak to a consultant today
Find out how Satchel One can transform teaching and learning in your school today.